How to make your next event a great success so you can look like a superstar!
Special events, banquets, cocktail parties, meetings, annual-award programs, clients-appreciation events, Christmas parties, corporate events and much more!
If you're having a formal event and you are looking for stage performers this is what you will be looking for. Greg Holroyd has a full show that is interactive and designed for bigger corporate audiences! In the show, Greg performs grand demonstrations using magic, pickpocketing and hypnosis that will leave your guests jaws on the floor whilst crying with laughter. This is an experience they will never forget! Don't believe me ask my previous clients:
"Hi Greg, from everyone at Leeds Women's Aid, we'd really like to thank you for a great evening of entertainment at our Annual Event! We received so much fantastic feedback from people who were freaked out (in a nice way), surprised and left scratching their heads about how you can use magic to turn every day items into something you want to talk about long after the evening. I won't hesitate to recommend you to anyone looking for a fun evening of entertainment from a professional, yet really personable guy! :)"
-M. Clarke, LWA
| | |
| --- | --- |
| Performing close-up magic for private party in Leeds | Performing close-up magic for private party in Leeds |
This is perfect for events where guests are mingling with each other. Greg will go around and perform intimate miracles performed inches away from them! This is a great option if you are looking to create an impression. Whilst mingling he will perform mind blowing magic like.....ripping a card and having the corner appear in their hands..... Whistle a thought of song to them..... Pick their pockets whilst leaving them screaming with laughter. This is my most popular service and is the perfect ice-breaker for any event!
"Highly professional and equally mysterious, we hired Greg to entertain our corporate clients in a bid to impress them and gain new business. Greg helped us do just that. Superb magic, he totally wowed our guests, mingled seamlessly and made our event one to remember. I would highly recommend this talented, very engaging magician for any type of event."
-The Leeds Club
If you want to impress at your event this is the type of service you want! Get in touch to check availability for your next corporate event now!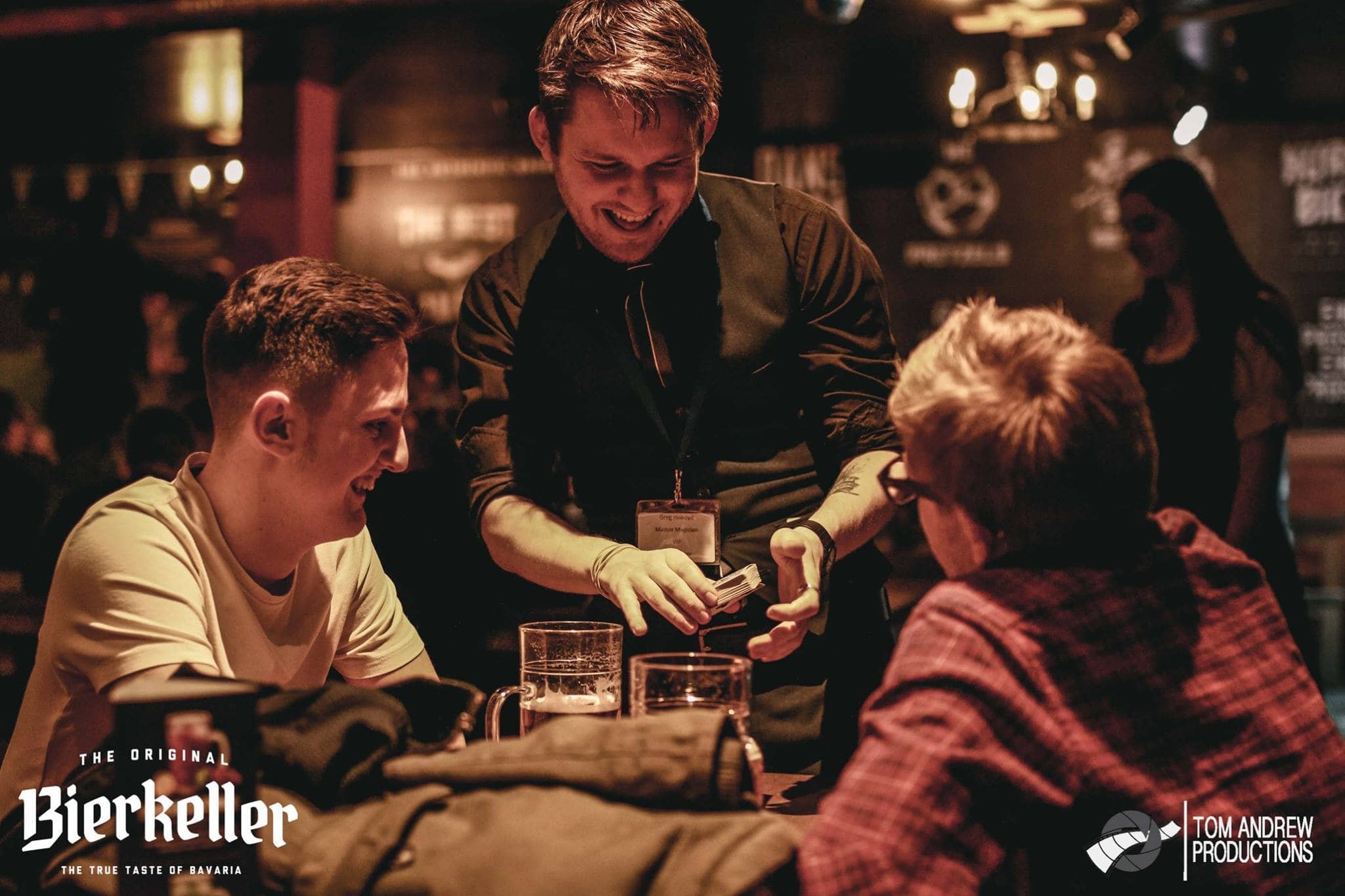 Professional magician performing at a private party in Sheffield