Do you want YOUR Wedding Guests to Have a Unique and Fun Time on the Big Day?
Invited hundreds of friends and family and looking for entertainment for everyone?
Wedding Magician Uncovers the Secrets to Making Your Wedding Day Unforgettable so your guests will be talking about it for years to come!
Professional magician Greg Holroyd performing pickpocket magic for wedding guestsGreg understands that no two weddings are the same and different couples use his magic services in different ways. Most clients book his close-up magic services, others who like to have something specially prepared for their day like a stage/parlor show and some people combine the two!
This is why all services are tailor-made to your desires and needs for your special day and all services are designed with one goal in mind:
"Make sure you and your guests have an unforgettable wedding day with magic memories"
If you are looking for the perfect ice-breaker to entertain your friends and family so you can relax knowing that everyone will be having fun at your wedding so you can focus on having a good time on your special day! Here are some popular services for weddings below:
Stand-Up/Parlour Show
Something completely different and increasingly popular is to have a full show performed during the evening reception before the wedding band/DJ starts or during when photographs are being taken. No stage is needed any dance floor or small space outdoors can be used for this small intimate shows. Below is a short clip of one of these shows:
Greg can perform one of his shows that last between 10-15 minutes and can be longer if desired. Each and every show concludes with a surprise wedding present for the bride and groom they will never see coming! You won't believe the look on your face when you see what Greg brought you!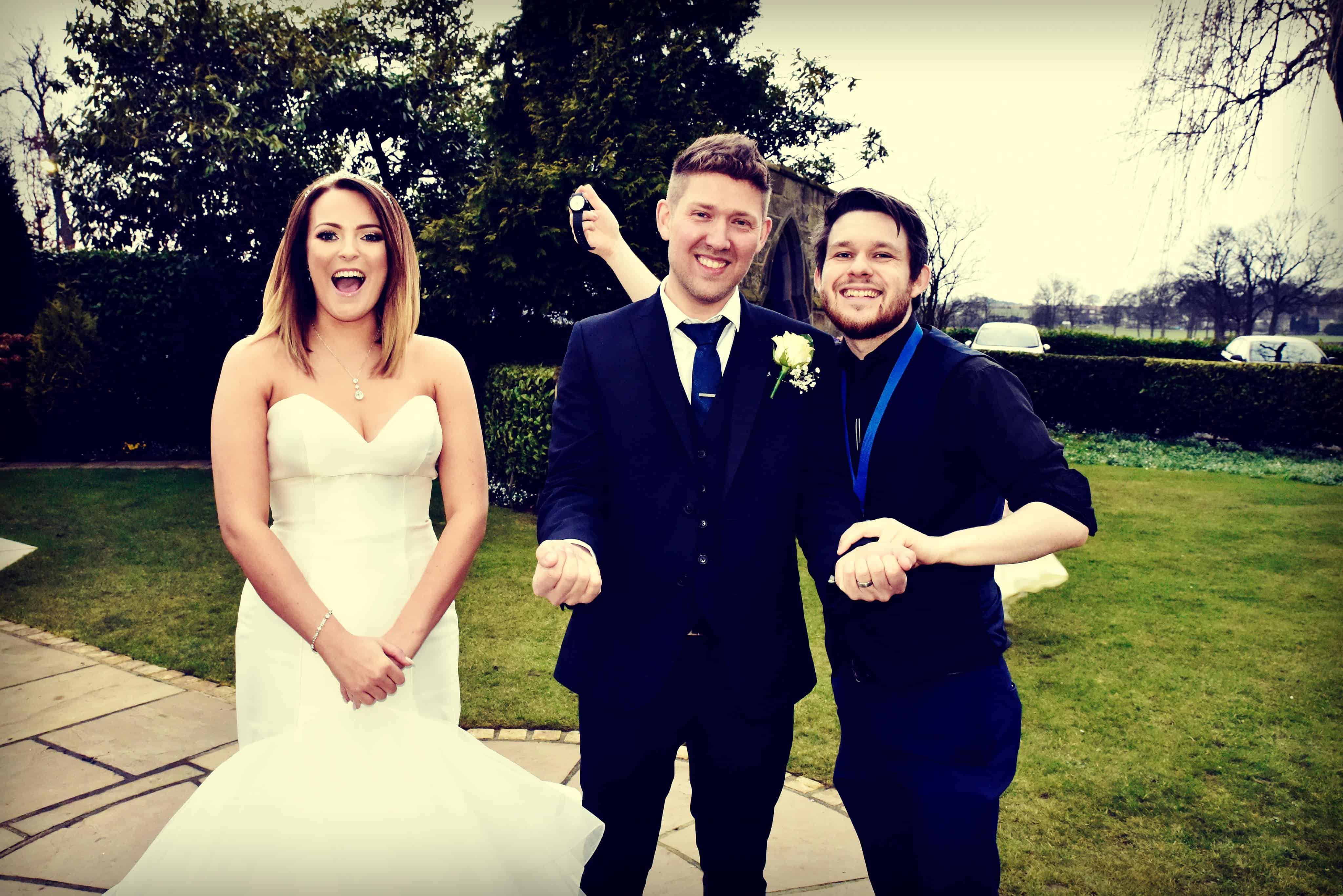 Professional Magician Greg Holroyd performing a small stand-up show for the Bride and Groom on their wedding day
Close-Up Packages
Have a professional magician mix and mingle with your guests and break the ice making sure they are having fun on your wedding day! Here are some good times slots to have a close-up magician:
1. During the photographs! This can be hands down the most boring part of the day for guests not involved which is why it's great to book Greg to mix and mingle and keep guests entertained with some close-up magic.
2. The wedding breakfast is also a great time to get Greg to perform in between courses. This works as a great ice-breaker as no matter how hard you try not everyone will know each other on each table and magic can help bring people together.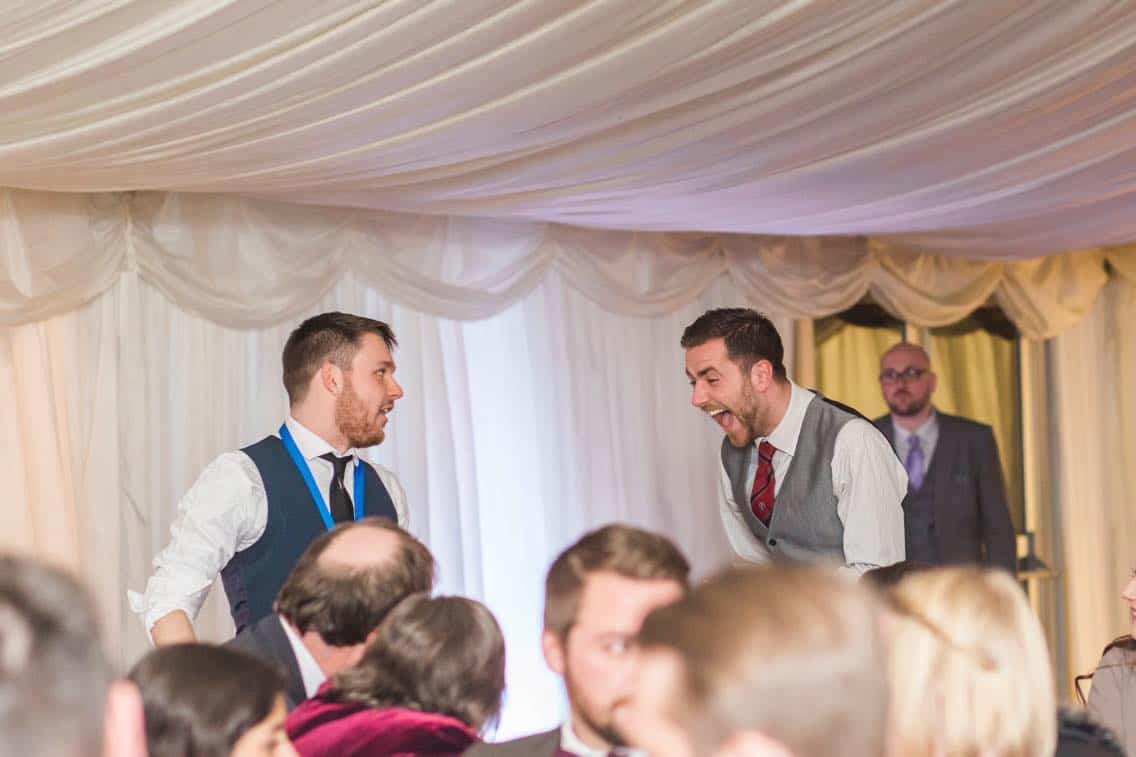 Professional magician Greg Holroyd performing close-up magic at a wedding breakfast
3. Close up magic works perfectly for the start of the evening reception. People are often standing around and are looking to be brought into the group which is something Greg is very good at doing!
"Greg performed his unbelievable magic at our wedding after we were amazed by his talents on a night out in Leeds. My friend was telling me on the night about a magician that he saw at a wedding on the night and I dismissed it - I pictured rabbits out of hats and balls up sleeves. We bumped into Greg in a bar and he blew us all away; I asked for his card as soon as he'd finished and contacted him on the train home to Donny.
It was much of the same on our wedding day: he was the perfect talking-point for our guests during the long periods between the ceremony and food/speeches and then from the food/speeches to the evening's music.
He left people totally bewildered with his talents - many of our friends are still talking about some of the things that he did and 'how?'. He has a very personal, humorous approach to his magic and, along with our photographer & band, we felt that out of everything that we booked for the day was the best value for money. He's the perfect way to break the ice and add an extra touch of awesome to your day."
-Andy & Sammi
Fill in the form below to reserve your date to avoid disappointment now!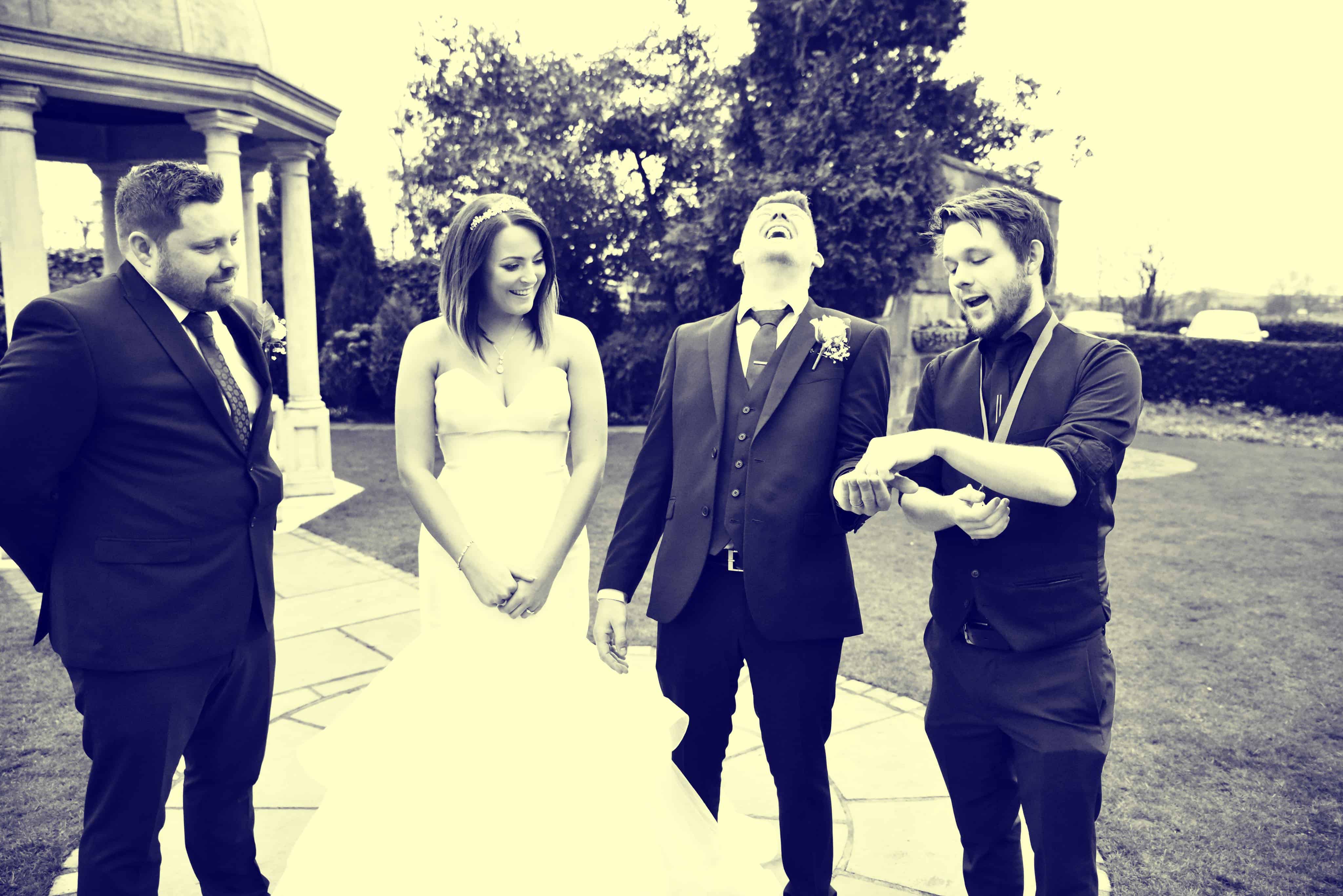 Live reactions from Professional magician Greg Holroyd performing wedding magic in Leeds